Support MicroBrewr
I love maintaining this site for you. I am learning a ton from doing MicroBrewr podcast and I hope to soon add more blog posts and other content. I hope you are learning a lot too.
Here are a few ways that you can support MicroBrewr and help keep it going.
1. Advertise with MicroBrewr
There could be an excellent opportunity to advertise with MicroBrewr.
MicroBrewr is about inspiring people as they start their own microbrewery or take their existing brewery to the next level. MicroBrewr's audience is made up of entrepreneurs, wantrepreneurs, and people who want to make an impact in the world.
If your product or service aligns with this audience, click here for more information.
2. Send love through PayPal
If you like MicroBrewr, please make a small contribution. There are expenses to maintaining a site like this: website hosting, podcast hosting, and other expenses. Your contribution will encourage me to keep it up.
Buy me a beer (select an option):
Or give monthly (select an option):
3. Shop from Amazon
Go through this link to make purchases in Amazon, and I'll get a small commission. It doesn't add anything to your purchase price.

4. Spread the word
Craft beer is more fun with more people. Share MicroBrewr with you favorite social network by clicking the handy links below.
5. Sign up for the email list
BONUS: The FREE book,
The Secrets of 5 Craft Brewers; Mistakes you must avoid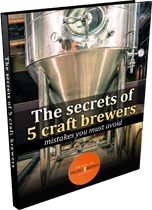 6. Let me know that you appreciate this
Send me an email through the form on the contact page. Tell me what I'm doing right, or what you'd like to be changed.
7. Subscribe, rate and review
Subscribe, rate and review the podcast in iTunes or Stitcher.