Podcast: Play in new window | Download | Embed
Subscribe: RSS
Raise Money For Your Microbrewery Using Crowdfunding
In this podcast I got to interview Mark Slattery from CrowdBrewed which is a crowdfunding platform targeting the craft beer industry.  While I have heard of crowdfunding campaigns on sites like Kickstarter, I still wasn't sure on the details of how they worked.  Mark walks us through the process and details how you can raise money for your brewery without having to give up any ownership!  While crowdfunding can work really well for starting up a brewery, Mark also discusses how established breweries can use crowdfunding for expansions or if they want to offer a new beer line.  Besides raising money for your brewery, crowdfunding also has a great marketing aspect since your campaign will get attention and those that invest are going to be even more loyal fans in the future.  By the end of this podcast, you'll know how crowdfunding campaigns work, how to avoid pitfalls of campaigns that have failed and if crowdfunding is right for you!
Some of the topics that we cover:
What exactly crowdfunding is and how it works
The difference between rewards-based crowdfunding and equity crowdfunding
What sets apart the successful crowdfunding campaign versus those that fail
Examples of the best performing rewards that you can offer in your campaign
The best time to do a crowdfunding campaign if you're starting up a brewery
How established breweries can use crowdfunding for that upcoming expansion or product offering
The marketing value of a crowdfunding campaign
The next steps on what to do if you want to start up a crowdfunding campaign
Find Out More About CrowdBrewed and Links to Other Resources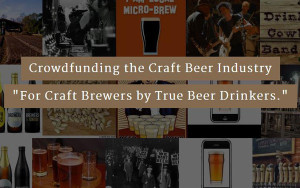 CrowdBrewed Twitter and Facebook Pages
Connect with Denver Beer Guy on Twitter
BrewDog – Scotland Brewery that Used Equity Crowdfunding To Raise Money
J Wakefield Brewery – Broke Craft Brewery Crowdfunding Record Raising $112,000

Build Your Social Media Presence Before Starting Your Campaign
To help with those crowdfunding campaigns, you'll want to already have a good social media following to get the word out once you start the campaign.  Since time and money is tight, I've put together an e-book with six free social media tools that you can use to build your presence online and get your beer into the hands of more people.  As my thanks for visiting MicroBrewr, simply click the button below and I'll send you the e-book free to your email.
Support MicroBrewr
Help keep MicroBrewr on the air. CLICK HERE for ways you can help.
https://microbrewr.com/wp-content/uploads/2014/04/Raise-Money-For-Your-Brewery.jpg
290
750
Joe
https://microbrewr.com/wp-content/uploads/2013/12/Logo3-Copy1.gif
Joe
2014-04-22 03:00:27
2016-12-29 16:17:12
MicroBrewr 008: Raise Money For Your MicroBrewery Without Having to Give Away Any Ownership w/ CrowdBrewed