Podcast: Play in new window | Download | Embed
Subscribe: RSS
Have You Ever Thought that You'd Like to Open a Microbrewery?
Through connecting with the MicroBrewr community and doing the weekly podcast, I've been lucky to talk with so many amazing people who are looking to turn their dreams into a reality and open a microbrewery.  The thought of leaving the 9-5 and going on your own path is an adventure that sounds like a dream come true.  Being able to leave the office behind to brew and drink beer all day, what could be better?  Well, we don't want to kill anybody's dreams but there is a lot more work that comes when you open a microbrewery than just brewing and drinking beer.  In this podcast, we'll go through the typical life of a brewer to try to give a good perspective on what to expect if you do take that next step to open a microbrewery.
Meet Collin From HenHouse Brewing Company
Collin McDonnell is one of the three founders of Henhouse Brewing Company.  HenHouse started selling beer two years ago and over that time have been raising money to quit their jobs to go at it full time.  One reason why I really wanted to talk to Collin is that he wrote a great article on the "real life" of working in the brewery where he was very transparent on the not so exciting parts of running the business day to day.  As we went through the podcast, you can tell that Collin's focus on the details comes from a passion that HenHouse puts into their beer to make sure they are making a quality product that they can be proud of.
Here's some of the topics that we'll cover in the podcast:
The amount of data collection that is required to put out quality beer that tastes the same every time
How much cleaning is really required in the brewing process
The benefits of leasing space from another brewery (alternating proprietorship) instead of starting with your own equipment
The need to think about how your brewery will be different that others in the area
How to pick your partners to leverage their strengths when you open a microbrewery
Why maintaining great relationships with regulators needs to be a priority
The benefits of working at a brewery before you start your own
The power of a vision to keep you focused on the end goal
Here are the Links of Stuff We Talked About and Spots Where You Can Find Out More About HenHouse
HenHouse Brewing Company Facebook Page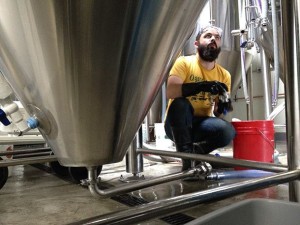 Collin's Article "So You Think You Want to Open a Brewery"
Petaluma Hills Brewing Company
Alcohol and Tobacco Tax and Trade Bureau (TTB)
61 Brewers Speak Out: What I Wish I'd Known Before Starting a Brewery
An Ode to Beer Drinkers by Collin McDonnell

Are You Enjoying the MicroBrewr Podcast?
If you like this podcast on what it's like to open a microbrewery, I would really appreciate it if you would give me a rating in iTunes to help spread the word about the podcast.  All you need to do is search for MicroBrewr in the iTunes store or you can use link this link here (then just click "View in iTunes").  Giving a rating in iTunes will continue to push the podcast up in the rankings which help get the podcast into the ears of more people.  Thanks in advance!
Give the MicroBrewr Podcast a Review on iTunes
 You might also like:
MicroBrewr 022: Expanding to… India!, with Arbor Brewing Company Brewpub in Ann Arbor, Michigan.
Support MicroBrewr
Help keep MicroBrewr on the air. CLICK HERE for ways you can help.
https://microbrewr.com/wp-content/uploads/2014/04/Open-a-Microbrewery1.jpg
289
750
Joe
https://microbrewr.com/wp-content/uploads/2013/12/Logo3-Copy1.gif
Joe
2014-04-15 03:00:53
2015-08-07 11:00:13
MicroBrewr 007: So You Think You Want to Open a Microbrewery... w/ HenHouse Brewing