Podcast: Play in new window | Download | Embed
Subscribe: RSS
Canning Versus Bottling Beer and Getting Your Distributors to Sell More of Your Beer
In this podcast, I had a ton of fun talking with Tyson Starling from Atlantic Brewing Company.  Tyson started as a credit analyst and after having to foreclose on somebody, decided that this was not the career path for him.  Tyson switched careers to work as a sales rep for a beer distributor in Maine and then was approached to work on the day-to-day operations for Atlantic Brewing Company.  In this episode, we go into detail about the pros and cons on canning versus bottling beer and why Tyson would be canning if he could do it all over again.  Tyson also has some cheap and easy tips on how to get your distributors to sell more of you beer and the importance of branding for your brewery.
Topics that we covered:
Why working in a brewery and a bank are more similar than you'd think
The importance of picking a distributor since you're locked in once you make your choice
Unique and cheap ways to get your distributor to help increase your beer sales
The scary truth about how long your beer can sit in a warehouse before making it to your customer
The power of consistency in all of your labeling or branding
How to use MicroStar to sell kegs out of state and not having to worry about having your keg returned
The pros and cons of canning versus bottling your beer and why canning may be better for your microbrewery
Here Are All the Great Resources Discussed in the Podcast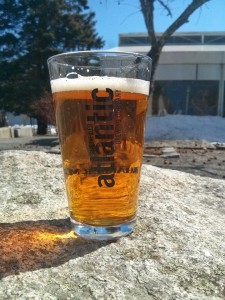 Craft Beer Business – How to get in contact with Tyson
"So You Want To Open A Microbrewery Podcast" w/ Collin McDonnell – Talks about the real life of being a craft brewer
"Branding and Transforming Your Beer into Art" w/ Harvey Shepard – Recommendations on branding and labeling your beer
"Developing Your Brewery Business Plan" w/ Aaron Brodniak – Goes into the cost of starting a brewery

I Need Your Help To Spread The Word
If you like this podcast on canning versus bottling beer and increasing your sales through distribution, I would really appreciate it if you would give me a rating in iTunes to help spread the word about the podcast.  All you need to do is search for MicroBrewr in the iTunes store or you can use link this link here (then just click "View in iTunes").  If you've never given a rating in iTunes before, I put together these instructions to walk you through the 2 minute process.  Giving a rating in iTunes will continue to push the podcast up in the rankings which help get the podcast into the ears of more people.  Thanks in advance!
Give the MicroBrewr Podcast a Review on iTunes
Support MicroBrewr
Help keep MicroBrewr on the air. CLICK HERE for ways you can help.
https://microbrewr.com/wp-content/uploads/2014/04/Canning-Versus-Bottling-Bee.jpg
280
750
Joe
https://microbrewr.com/wp-content/uploads/2013/12/Logo3-Copy1.gif
Joe
2014-04-29 03:00:26
2015-08-07 10:55:53
MicroBrewr 009: Getting Distributors to Sell More Of Your Beer and the Benefits of Canning w/ Tyson Starling