After I got a number of questions around how to get information about the money side of starting a brewery and doing the financial section of a business plan, I hope that this step-by-step guide can help out the aspiring brewer.  Truth be told, you can use the same process for a number of different businesses but in this guide, we'll focus on the beer side of things.
While you can do all of the financial planning in the world, the quickest way to get the information you need to start a brewery is finding someone else who's already gone through the process themselves.  As seen in our post "61 Brewers Speak Out: What I Wish I Would Have Known Before Starting a Brewery", these guys and gals who are now running their own breweries are a wealth of information.  When you're in the phase of looking for investments in business, showing that you've done your homework and having real life examples of start-up costs, sales and operating expenses will help to give you a leg up and add credibility to your financial section.
So How Do I Find A Brewer To Talk To and Will They Actually Help Me?
In the craft beer industry, we are very lucky to have a supportive community of brewers, many of whom are happy to share their experiences.  Odds are, they just went through the same process you're about to embark on and they got help from others.  Like everything else in life, it feels great to many brewers to give back to the community that got them started.  That being said, just randomly sending them an email asking for detailed financial information probably isn't going to get too many responses.  Here's my advice to getting the best chance of finding people who are willing to help you out:
First, do a search in your local area of breweries that match the type of brewery that you'd like to start.  If you want to start a distribution brewery based out of an old industrial building, find other distribution breweries like that in your surrounding area.  If you want to start a brew pub in a strip mall, see if you can find ones like it.  While it would be great to find other breweries that are just like the one you'd like to start, you also have to be flexible if the number of breweries in your area is limited.  Since some people might not want to share their information with you if you're planning on opening a new brewery across the street, take a look at other breweries in the surrounding areas that you can take a weekend road trip to visit.  Once you've found a few that seem to fit the bill of what you're looking to start, you can usually find their contact information on their website.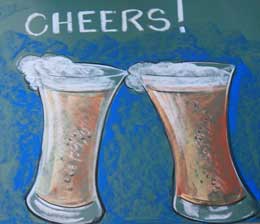 Now here's the trick.  Anyone starting a brewery is going to be super busy with all aspects of running their new business.  If you simply send them a long email asking for a bunch of info, your odds of getting a response back are very slim.  If you help out the brewery you're looking to get info from and can demonstrate that you're serious, you are going to have much better chance of them wanting to help you back.  Finding time to take a brewery tour or buying a couple of growlers for your friends will set the tone.  Tweet or share on Facebook different events that their brewery is having or how much you love the beer from their brewery (make sure to tag them so they can see it).  Volunteer to help them out with an upcoming event or say you'll come in at bar close to help them clean up the place.  Anything that you can do to create a personal connection with the brewery owner and show that you're serious will really help you out in the long run.  After you've established that personal connection, then you can contact them to see if they can take 15 minutes of their time to walk through the 12 key questions listed below.  I highly recommend doing this face to face or at least by phone since typing up an email takes longer for the brewery owner (and they are very busy!).
Now You've Got Your Connections, Here Are the 12 Key Questions to Ask
In this section, I'll list out the 12 key questions that you need to ask another brewery owner to get a good idea about the financials of their brewery, and ultimately find out how much does it cost to start a brewery. Going along with the 12 questions, I've created a free Excel spreadsheet that you can use to put in the answers to all of these questions (the link is at the bottom of this post).  I know that Excel can be a little intimidating so I've done all of the calculations for you.  All you'll need to do is enter in the numbers, select a couple of drop down boxes and you're good to go.
What was your original brewing capacity in barrels or gallons per batch? In the spreadsheet I've attached, I'll do all the tough work for you to convert these values.
How many batches of beer do you make in a typical month or year?
How much money did it cost you to start the brewery? Make sure to get all of the costs included in the process to get the doors open for the brewery.
What is the typical price you are able to sell the kegs and cans for?  You'll just want to get an average of how much the brewery gets for each of the kegs it sells.  If the brewery sells beer in the tap room, count this as "selling" a keg (really you're selling it to yourself) and incorporate this into the average price you get by selling a keg.  If the brewery sells cans or bottles to distributors, you'll want to get the price that the brewery gets from the distributor.  This can get a little tricky so if you have any troubles with this, let me know and I'll help you out on it.
How many kegs do you sell and how many bottles or cans?  You can either get this as a percent of total sales (% of keg sales versus % of bottles/cans sales) or actual sales of bottles and kegs over a typical month or year.
What's the typical cost of brewing ingredients?  You can get this in the average cost of ingredients per batch, the average ingredient costs per month or the cost per year.
How much does it typically cost to bottle your beer (including packaging, labeling, etc.)?  In this, you'll want to include the cost of buying the bottles, labeling, packaging and any shipping to get it to the distributor.
What is your typical rent or mortgage payment?  You can get this either as the payments per month or per year.
How much do you do you have to pay per month or per year for salaries and benefits for brewers, bartenders, servers, etc?  You'll want to get the average labor costs per month or per year and I would include any benefit payments since this will give you a better picture of the full costs of employing everyone.
How much are utilities typically per month or per year?  I know this can vary throughout the year but you'll want to get an estimation of a typical month's utilities costs including water, sewer, heat, cooling, electricity and any other usual costs.
How much do you have to pay for taxes on each beer that you sell?  This one can get a little tricky but you'll want to find out how much the brewery has to pay on taxes for a keg that it sells and how much for each bottle (you can also get taxes per each 6-pack or case of beer).
Are there any other costs or expenses that I should know about?
And that's it!  In 12 questions, you can get all of the key information that you need to know to be able to get a good perspective of their business (and your prospective brewery).  Now all you need to do is go into the spreadsheet that I have linked at the bottom of the post and put in the numbers into the boxes that I have highlighted.
To start off, this template should work well if you're looking at starting up a distribution brewery.  You can still get a lot of good information if you're looking at starting up a brewpub but the costs and sales of the food can complicate the matter a bit.  If you'd like me to create a second version for brewpubs, let me know and I can incorporate these items and expand on this guide.  If you get this information and need some help figuring out what all the rest of the numbers mean, feel free to send me an email with the spreadsheet and I'll help you out.
Disclaimer:  I have to put this in to protect myself and my family against a few bad apples.  This template was put together to give an approximation of the financials of a brewery while in the research state of a business plan.  While I will do all I can to make sure the information and calculations are correct, it is the responsibility of the user to verify these values and MicroBrewr is not liable for any use or decisions made from this template.
Download the MicroBrewr Brewery Financial Planning Excel Worksheet
Like what you've read and want to get updates on upcoming articles and podcasts?  Click the button below to sign up for the mailing list. As my thank you for joining the Microbrewr community, I'll send you a free copy of our e-book "6 Free Social Media Tools To Get Your Beer in the Hands of More People." 
Sign up for the email list:  
Sign me up!
https://microbrewr.com/wp-content/uploads/2014/03/IMG_6683.jpg
281
750
Joe
https://microbrewr.com/wp-content/uploads/2013/12/Logo3-Copy1.gif
Joe
2014-03-04 06:00:04
2014-12-15 21:45:04
The 12 Questions You Need To Ask to Plan Your Brewery