Podcast: Play in new window | Download | Embed
Subscribe: RSS
The Final Episode of the MicroBrewr Podcast
As a lot of you know, my wife and I are currently expecting our first child just about any day now. With him coming, I've taken a step back to analyze priorities since I feel like I don't currently have enough free time to give to him with everything that I'm currently doing. While doing this podcast has been an absolutely amazing experience, after a lot of consideration I've come to the sad conclusion that I'm going to need to give it up to be able to focus on my family. I hope that you understand and I just really want to say thanks for all of the amazing support that I've had along the way. This will be the final MicroBrewr podcast and I have an awesome interview with David from Wild Earth Brewing to wrap up the MicroBrewr podcast series!
UPDATE: This is not the last episode!!! See episode 13 for more details.
Meet Dave From Wild Earth Brewing
Dave Kilgour was able to start up Wild Earth Brewing in 6 months, fully funded from friends and family and with a total cost of $125,000.  From moving in the fermenter from his garage with a couple guys from town to being the only employee of the brewery, David has planned to keep costs down while still producing awesome beer for the masses.
In this podcast, we discuss: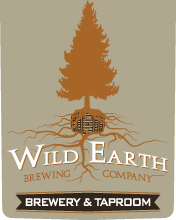 The dynamics of starting a brewery in a small town
How working in a brewery before starting your own is key to your success
Discussion on the financial aspect of nano-brewing and the lost costs to increase brewing size
Selecting the styles of beer to offer when opening your brewery
The process of scaling up your homebrew batches to the full brewery process
How to bottle your beer while keeping costs down
The benefits of being able to fully fund your brewery without outside investors
Support Dave and Wild Earth Brewing Co!
Check him out at the links below!
UPDATE 6/27/2020: Wild Earth Brewing website is down. This is from their FB post Dec 5, 2014: …it has become clear to us that in order to meet the demand for our product we must evaluate our operation and explore new business models that will enable us to grow to meet the level of production our customers are demanding. To that end, we have decided to close our current operation in Roslyn at the end of December while we investigate our options."

Support MicroBrewr
Help keep MicroBrewr on the air. CLICK HERE for ways you can help.
https://microbrewr.com/wp-content/uploads/2020/06/MicroBrewr012.jpg
219
750
Joe
https://microbrewr.com/wp-content/uploads/2013/12/Logo3-Copy1.gif
Joe
2014-05-20 03:05:41
2020-06-27 08:51:44
MicroBrewr 012: How To Start Up a Brewery for $125,000 w/ Wild Earth Brewing