Podcast: Play in new window | Download | Embed
Subscribe: RSS
If you're new to the podcast, we like to talk all things craft beer but tend to focus on starting up a brewery or ways to take your current brewery to the next level. This week I'm really excited to share the story of Ninkasi Brewing and the tremendous growth that they've seen since 2006. Ninkasi started as a 15-BBL system and after four expansions has become one of the top 30 craft breweries in the nation. Nikos Ridge is one of the founders of Ninkasi and talks through why he thinks that their brewery has really taken off and lessons that he has learned along the way. Nikos also talks through their community involvement and how operating a brewery is more than just about the beer, it's about the people who work in the brewery and the surrounding community.
In this podcast, we'll cover: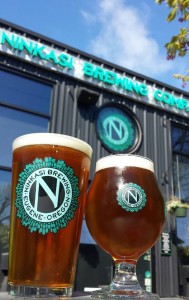 How Ninkasi got started and their journey along the way
The experience that they've gained after going through four major expansions of their brewery
Planning for that next expansion down the road
The importance of community and examples of different programs your brewery can get involved in
Finding the right staff that fits your brewery (and the troubles you can run into if you select poorly)
What Nikos believes has driven the tremendous growth that Ninkasi has experienced and what will continue to drive growth in the future
Advice for new breweries that are opening up in today's market
Make Sure to Get a Ninkasi Brew Near You!
If you live or are visiting the West Coast, Ninkasi is distributed through Washington, Oregon, Idaho, Alaska, Montana, California and British Columbia (and coming soon in Nevada). Here are some other resources that we talked about during the podcast:
Top 50 Craft Breweries List (2013)
Oregon State Northwest Beer and Cider Sessions – Great resource for those looking to start a brewery
61 Brewers Speak Out: What I Wish I'd Known Before Starting a Brewery

Come Say Hi
I love to connect with the MicroBrewr community so make sure to connect with me through Facebook, Twitter or Untappd.  You can also send me an email using our Contact Page.
Have a Beer With Me on Untappd
Support MicroBrewr
Help keep MicroBrewr on the air. CLICK HERE for ways you can help.
https://microbrewr.com/wp-content/uploads/2014/05/Ninkasi-Logo.jpg
280
750
Joe
https://microbrewr.com/wp-content/uploads/2013/12/Logo3-Copy1.gif
Joe
2014-05-06 03:00:53
2015-08-04 23:02:27
MicroBrewr 010: How Ninkasi Went From a 15-BBL System to the 30th Largest Craft Brewery in the Nation w/ Ninkasi Brewing